Full Mouth Dental Implants
Are you looking for a minimally invasive and cost-effective solution for replacing an arch of missing teeth? Look no further than All-on-6 implants with Meiplus Dentalcare!
This ergonomic treatment option improves your concern with functionality, appearance, speech, and self-confidence. 
Get back your beautiful smile and gain the confidence you deserve with All-on-6 implants!
All-on-6 Implants can be reasonable option?
All-on-6 implants offer an opportunity to replace an entire arch of teeth with just six implants. This treatment option is becoming increasingly demands in Singapore due to its reasonable cost and permanent option.
Unlike other dental implant options, All-on-6 dental implants can be placed in just one appointment. This means you can complete your entire arch replacement in a fraction of the time it would take with other types of dental implants. All-on-6 implants are also minimally invasive. This means you do not have to come in for consecutive sittings.The procedure sometimes does not require bone grafting, meaning that you can go through the entire process with minimal disruption to your daily life.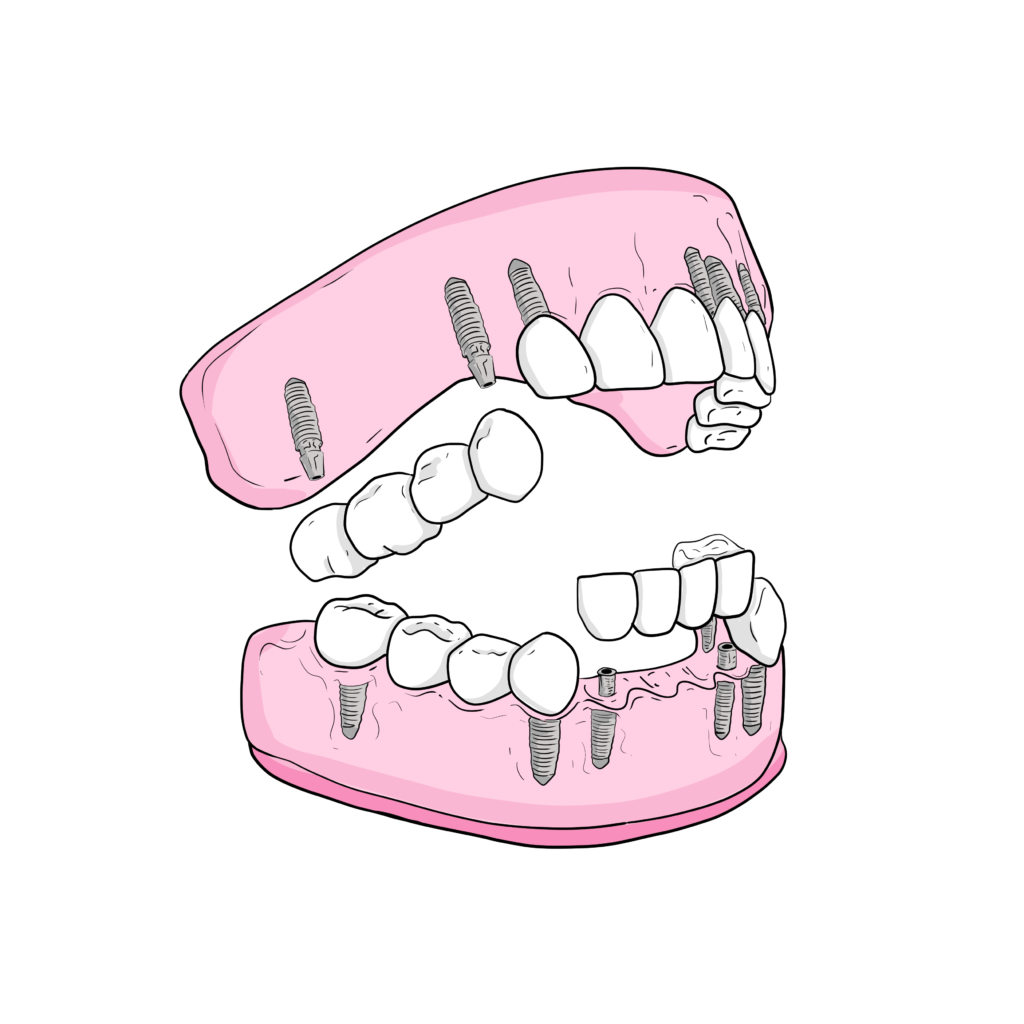 All-on-6 Implants Procedures
Is It Necessary?

Bone Grafting and Sinus Lift Procedures
In certain cases, sinus lifting and bone grafting procedures may be necessary to ensure the success of your dental treatment. Our dentists will thoroughly evaluate your specific condition and recommend these procedures if deemed necessary.  
Whole Teeth on 6 Tooth Implants
Our team can help you with traditional and modern dental implant options. These dental implants are made of titanium, a biocompatible material the body accepts. The implant is placed into the jawbone, and a crown is placed on top. This creates a strong and secure foundation for the replacement tooth. Patients with missing teeth or those who are about to become edentulous can be fitted with a permanent full-arch prosthesis on six implants in a single procedure. This increases patient contentment concerning functionality, looks, articulation, and self-confidence with Meiplus Dentalcare!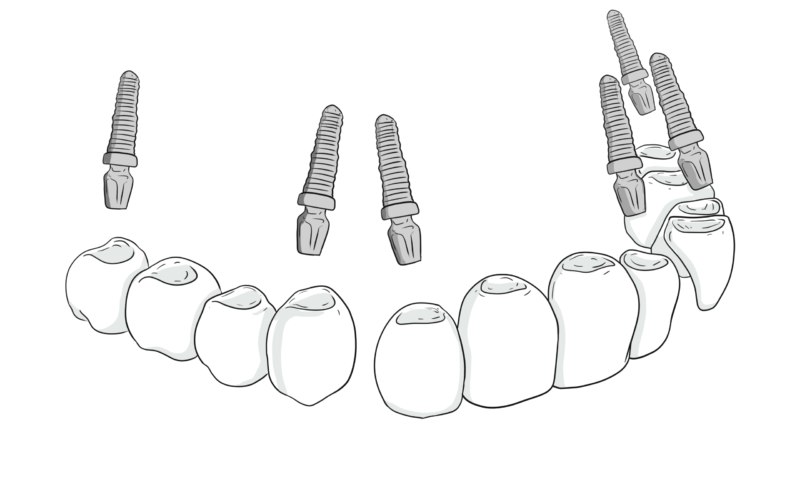 No more wasting time with multiple visits
All-on-6 dental implants are an optimal way to get dental implants. Instead of placing multiple implants in your jaw, our dentistscan help you get a complete set of teeth in few visits. 
Economical treatment costs
All-on-6 dental implants are more cost effective than other treatments. Because you're getting a full set of teeth in few visits, you're saving money on the cost of multiple implants. You also save time and money on the recovery process. Refer to the comparison table below:
| | Dentures | Implant-retained Denture | All-on-6 Implants |
| --- | --- | --- | --- |
| Implant type | Detachable | Fixed or Snap-On | Fixed |
| Appearance | large chunks of acrylic | Can be thin if fixed | Resemble natural teeth |
| Comfort | Can cause pain & Discomfort | Somewhat comfortable | Most comfortable & Natural feeling |
| Protects bone density | No | Partially protect | Yes |
| Preserves bite force | Significantly reduced bite force | Partial bite force | Full bite force |
Benefits of All-on-6 Implants
The All-on-6 oprocedures are designed to provide a full arch of teeth in 3 or 4 visits, with a permanent and natural-looking result. All-on6 implants will benefit you if:
If you are considering full mouth recovery treatments with dentures or dental implants, the All-on-6 procedures may be the right option for you. Talk to the team at Meiplus Dentalcare to find out if these procedures are right for you.
Stability with Minimal Bone Volume
Dentists at Meiplus Dentalcare can use longer implants as they strategically position the two posterior implants. It is an effective procedure where the bone-to-implant contact is optimum. Implants can be securely placed in the front part of the jaw (anterior bone), reducing long unsupported spans (cantilevers) and helping to protect vital structures in the mouth. All-on-6 implants provide stability with minimal bone volume, allowing for a more comfortable and secure fit. As the prosthetic teeth look and feel like natural teeth, they provide a more natural appearance.
Why choose Meiplus Dentalcare for All-on-6 implants?
At Meiplus Dentalcare, we provide the full range of dental implant treatments including all on 6. Our team of dentists and staffs is dedicated to providing the relevant care for our patients. We use the digital technology and techniques to deliver our patients receive results they expect.
At Meiplus Dentalcare, we understand that getting dental implants can be a stressful experience. That's why we strive to make the process as easy and comfortable as possible. We provide a comprehensive consultation to deliver that you understand the process and the risks involved. We also provide a detailed treatment plan to deliver you get the optimal results.
Our All-on-6 dental implants give you:
At Meiplus, we create customized dental implant crown
Custom abutments are made by a dental laboratory. The restorative dentist captures the position of the implant and the shape of the surrounding gum tissue by taking an impression. The laboratory then fabricates an abutment that resembles the emergence and shape of a natural tooth. The custom abutment will fit on the implant and supports the gum tissue similar to a natural tooth.
About Our Team
Meet Our Dentists from Korea, USA, UK and Singapore.
Financing Option
We're pleased to offer you the following payment option for your convenience: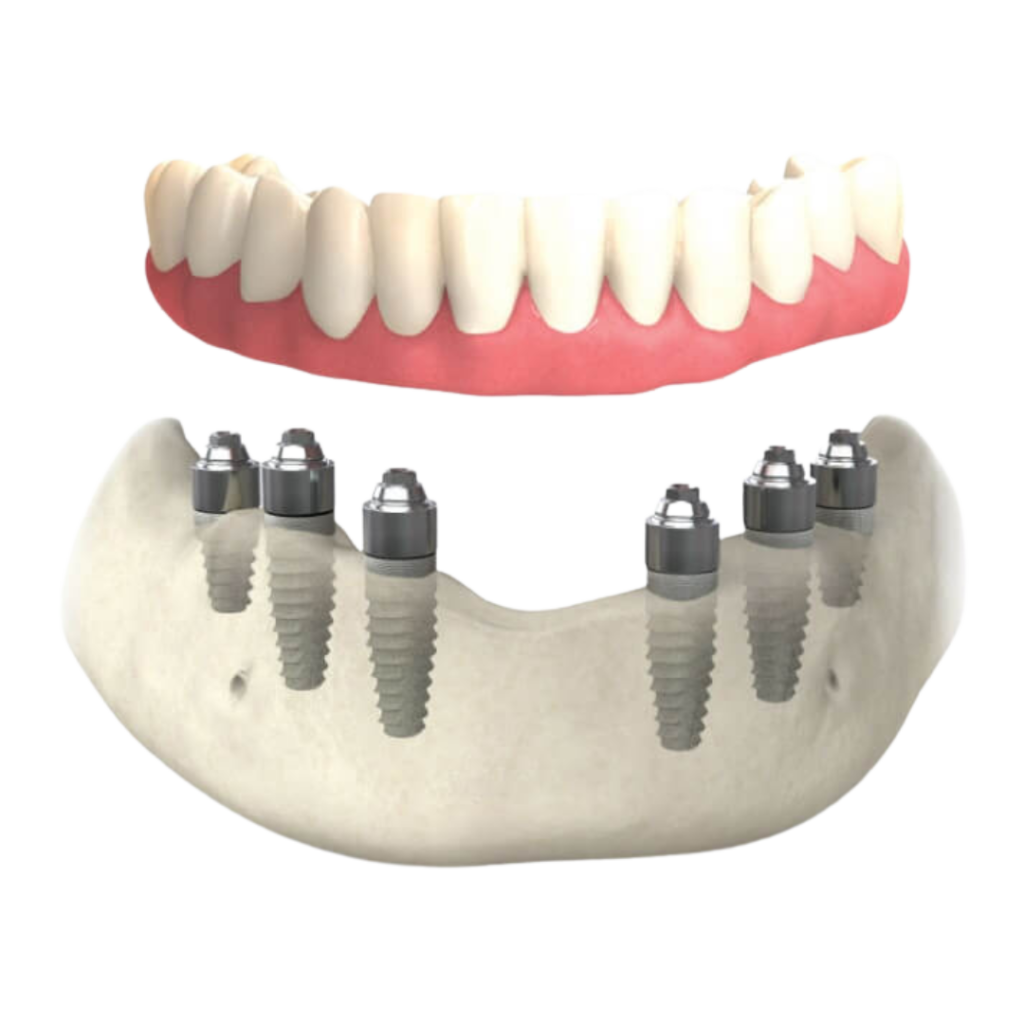 Learn More About Dental Implants
Same-day appointment available
Contact us today to learn more about our All-on-6 implants and to schedule a consultation.
Convenient location near the Tanjong Pagar MRT Station
Internationally trained dentists from

USA, UK, Korea and Singapore
Meiplus Dentalcare is a comprehensive missing teeth solutions provider in Singapore the experience, knowledge and skills to offer dedicated services to our patients. We are ready to assist you in discovering your tooth replacement options. To request an appointment, call  Meiplus Dentalcare at 6538 1400 or email us at  meiplus@meiplus.com.sg.